_____________________________________________________________________________________________________
W O R L D - S E C U R I T Y
IS YOUR SECURITY
_______________________________________________________________



If you were not watching, The world just got a Whole Lot Scarier . . . . PAY ATTENTION!

Directly from:

Print Edition
The
Trumpet
with its unique analyses is offered absolutely
FREE
, with no obligation, in the public interest.
____________________________________________________________________________________



UPDATED:
30/07/2019
From the Trumpet.com
Big Tech companies have changed the Internet from an instrument of democracy to a tool for authoritarians.
An American organization is helping China build a totalitarian surveillance state. Google and ibm executives lead the OpenPower Foundation, which is working with the Chinese company Semptian to build a microprocessor that allows the Chinese government to monitor the Internet activity of millions of people. After receiving tips about the company's role in mass surveillance, an investigative reporter contacted Semptian posing as a potential customer. In response, a Semptian employee revealed that the company had developed a surveillance system named Aegis. The program allows spies to collect people's e-mail records, phone calls, text messages, cellphone locations and web-browsing histories.
China is using this technology to target critics of President Xi Jinping's Communist regime, and U.S. companies are helping. "It's disturbing to see that China has successfully recruited Western companies and researchers to assist them in their information control efforts," Sen. Mark Warner of the Senate Intelligence Committee told Intercept.
Aegis equipment has been embedded in China's phone and Internet networks, and sold to authoritarian governments in the Middle East and North Africa. And some of the same technology is being used to track the e-mail records, phone calls, text messages, cellphone locations and web-browsing histories of American citizens.
Authoritarian regimes in East Asia, North Africa and the Middle East are so eager for the latest Google technology because Google was established with research grants from the U.S. Central Intelligence Agency and the National Security Agency.
"Some of the research that led to Google's ambitious creation was funded and coordinated by a research group established by the intelligence community to find ways to track individuals and groups online," reported Quartz Magazine. "The intelligence community hoped that the nation's leading computer scientists could take nonclassified information and user data, combine it with what would become known as the Internet, and begin to create for-profit, commercial enterprises to suit the needs of both the intelligence community and the public."
The search algorithms that resulted from this cia–Silicon Valley alliance allow companies like Google to track people's interests, hobbies and political affiliations as part of a grand targeted advertising campaign. These same algorithms are now being sold to authoritarian regimes around the world, allowing dictators to clamp down on "dissidents" who are reading online material that their governments have deemed subversive. Google executives are even using these same algorithms to influence election results in democratic nations, like the United States.

Germany's arms industry 'continues to grow unabated.'
The Chinese have officially denied that the world's largest infrastructure also has military uses, until now.
Germany's security landscape is changing to resemble its worst history.
A
cross Germany, states are changing their police laws. Police officers are receiving increased authority not seen since World War
ii
. The governments speak of false fears, but the changing laws remind many of Germany's darkest history.
Containing radical Islam in the Sahel and Somalia is preparation for confronting Iran.
Both sides are shifting from concession to confrontation.
This time, it's not prospectors looking for precious metals—it's central banks.
Report sheds light on the
pla
Navy's plan to control two oceans.
It's now confirmed, 28 months after the fact: Donald Trump's winning the 2016 election by secretly conspiring with Russian operatives was an ELABORATE HOAX. It was invented by the Department of Justice and the FBI at the end of the Obama presidency for the sole purpose of destroying a political enemy.

On Friday, Department of Justice Special Counsel Robert Mueller III submitted his long-awaited report to the attorney general's office, ending a torturous 22 months of investigating Donald Trump and nearly everyone associated with his 2016 presidential campaign. For two years, Democrats, Never-Trumpers and their all-too-overeager allies in the mainstream media reminded us every day that the Trump campaign conspired with the Russian government to rig the election. The Mueller probe, they assured us, would prove every one of these slanderous accusations: from high crimes and misdemeanors to outright treason. Donald Trump, his children and their advisers were all going to prison, probably for life, for conspiring with Russian President Vladimir Putin.

American taxpayers funded every penny of this sham investigation, estimated at $25 to $40 million. According to Attorney General William Barr's summary of the report, Mueller employed 19 prosecutors and was assisted by 40 FBI agents. The special counsel issued more than 2,800 subpoenas, executed 500 search warrants, interviewed 500 witnesses, collected 230 requests for communication records, and submitted 13 requests for evidence to foreign governments.

After all that, according to the report, "the investigation did not establish that members of the Trump campaign conspired or coordinated with the Russian government in its election interference activities" (emphasis added throughout). In other words, not one, single American was indicted or convicted for conspiring with the Russian government to influence the 2016 election.

The media reaction to this revelation has been astounding. They are not happy or even relieved to know that the Trump team did not conspire with Russia to compromise the American election process. They are instead furious that Mueller didn't take down Donald Trump!

They haven't even read the full report (it hasn't been released). But they know President Trump is guilty. And they are all competing to be the ones with the most anti-Trump reaction to the news that he and his team have been cleared.

They are displaying to the world that they are impervious to facts. The evidence does not matter if it differs from their opinions.

"How can they let Trump off the hook?" one commentator mournfully asked on Friday night. Another said, "I don't need the Mueller report to know he's a traitor—I have a TV." Yet another said he was still convinced that Mr. Trump is BENEDICT ARNOLD, the infamous Revolutionary War defector. One Democratic presidential candidate says he knows "beyond a shadow of doubt" that Trump colluded with Russia. Another Democrat in the House of Representatives is now calling for Robert Mueller to be subpoenaed!

These people should be hanging their heads in shame. Instead, they simply turn their eyes and ears AWAY from truth and carry on with this disgraceful con job. There are plenty of other investigations still pending, one commentator gleefully noted over the weekend.

They won't stop until they get rid of Donald Trump because, well, he's Donald Trump. They hate the fact that he defeated them. They hate him. But most importantly, they hate those who support him.

This was Democratic Rep. Jerrold Nadler's response to the Mueller disappointment: "The special prosecutor is limited in scope; his job was limited in scope and limited to crimes. What Congress has to do is look at a BROADER PICTURE." Never mind crimes! The Democrats in Congress have SO MUCH MORE they can "investigate" in order to, at the very least, bog down and oppose President Trump and his policies.

So they will do everything in their power to continue the con. But the truth is there for those who have eyes to see.

On my radio program earlier today, I had a lot to say about the Mueller probe and the Russian collusion hoax. At this milestone moment in this crucial presidency, I really encourage you to have a listen:
Haven't you wondered why Donald Trump has been so resilient, to say the least? People considered him a novelty. He ran for president of the United States. People said his candidacy was a joke. He won the nomination. People poured on the hate. He won the election. Democrats, journalists, commentators, celebrities, former friends and associates, more than a few Republicans, and even powerful people inside his own government have all tried to, at least, slow him down and, at most, impeach him (or perhaps goad someone into killing him).

But President Donald J. Trump rolls on.

Not only does he retain the presidency, but he gets things done: reforming taxes, confirming a record number of circuit judges, withdrawing from the Iran nuclear deal and the Paris climate accords, moving the U.S. embassy to Jerusalem, recognizing the Golan Heights, increasing border security, reducing regulations, renegotiating trade deals, making businesses optimistic, and helping the U.S. economy surge.

Not only does he retain the presidency and get things done, but the more his enemies work to destroy him, the worse things go for them. About half the country opposed him, and I'd say about 90 percent of the elites hate him. President Barack Obama's administration doubled down on its opposition to him by stacking the powerful Department of Justice with agents who would try to undermine and end the Trump presidency. Yet as my father showed in "Nunes Memo Exposes Unseen Threat to America," the scheming, collusion and deceit that the former president and other radical liberals aimed at destroying President Trump backfired, and the world discovered much of that corruption. Their attack damaged them more than it damaged Mr. Trump. How does that happen? Why does it keep happening?

They doubled down further by launching the Mueller investigation. They devoted a huge amount of executive, legislative, media and cultural power to it. Now, rather than meaningfully damaging the president, they have again damaged themselves. Yet even with the humiliation so fresh, they have little choice but to double down even further in their opposition. (Backing off now, in the face of the facts, would mean admitting they were wrong and, in most cases, admitting that they tried to influence people in a biased if not deceitful way.) They're probably working right now on their latest, most creative, most vicious insults to voice on television in the competition to show that they are the celebrity, politician or journalist who possesses the most rage toward President Trump. But by now they probably have a sinking feeling that their best isn't good enough. Something is powering this president that they haven't been able to stop.

How can a man facing such enormous enmity still succeed?

He can't.

This presidency has been used to temporarily save the nation, but the savior is not Mr. Trump. God Himself has used this presidency to keep this nation from falling. What is powering the president is not his own strength, personality, allies or anything else. My father spoke and wrote about the real reason for the president's success about a year ago. I encourage you to read it: "Saving America From the Radical Left—Temporarily."

Kind regards,
The same officer whose methods were used to annex Crimea is calling for Russia to rearm in peacetime.




One day soon the French will come to realize that they are making the greatest mistake in their nation's history.
State of the Union
(29 minutes)
On the first half of today's show, I go through some of the highlights from President Donald Trump's State of the Union address last night. It was well received with CBS News reporting a 76 percent approval rating and 72 percent supporting the president's ideas for immigration. In the speech, Mr. Trump took a strong stance against socialism in America and brought out horrors of the new abortion laws. He also reminded America about the stirring history of the D-Day invasion.
China's BeiDou Navigation System Goes Global
The Wall Street Journal • December 13
Czar Vladimir? Putin acolytes want to bring back the monarchy
Wall Street Journal • December 11
The historical profession is committing slow-motion suicide
War on the Rocks • December 10
Victor Davis Hanson • December 11
A tiny Chinese microchip may have infiltrated numerous American governmental and military systems, giving insight into how several specific Bible prophecies could come to pass.
Famine Is on the Verge of a Major Comeback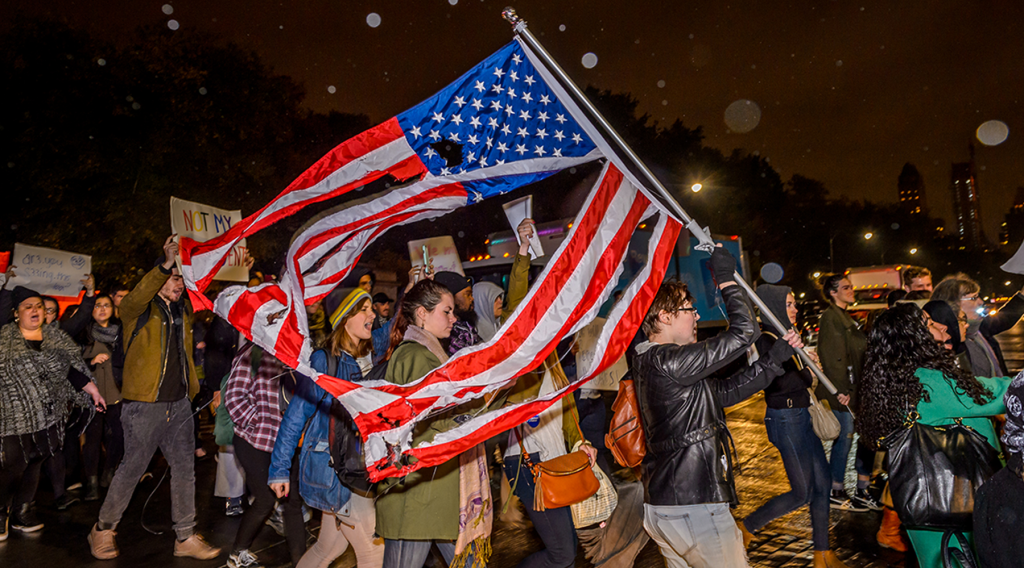 America's Coming Civil WarErik McGregor/Pacific Press/LightRocket/Getty Images
But Americans don't know why it is coming.
The Coming Civil War
October 26
Media Blame Donald Trump for the American Mail Bomber
October 25
China hopes diplomatic efforts will neutralize India's resistance to the Belt and Road Initiative, but it has a backup plan.
AMERICA UNDER ATTACK
Yesterday the FBI raided the office, home and hotel room of Michael Cohen, the personal attorney of United States President Donald Trump. According to the New York Times, the federal agents seized business records, financial documents, e-mails, phones and computers.

"The search does not appear to be directly related to Mr. Mueller's investigation," the New York Times wrote, "but most likely resulted from information that he had uncovered and gave to prosecutors in New York" (emphasis added throughout).

Remember: Robert Mueller's investigation was supposed to find out whether or not candidate Donald Trump colluded with Russians in order to win the 2016 presidential election. Mueller's team, by all accounts, has not uncovered one shred of evidence to substantiate that allegation.

But that has not discouraged special counsel Mueller from aggressively targeting the Trump administration on all fronts!

"Search warrants are a fairly standard, though aggressive, law enforcement tool," the Associated Press wrote, "and are often sought in cases where authorities are concerned someone may hide or withhold evidence" (April 10).

Mueller's team of 17 prosecutors (including numerous left-wing activists) is colluding with the U.S. Attorney's Office in New York. And now they have President Trump's privileged communications with his long-time attorney.

Where does this end? And how will it impact the United States of America?

Those unfamiliar with the ongoing Trump-Russia collusion saga may shrug their shoulders and treat this like it's just another scandal. But it's much more than that, as the president himself acknowledged yesterday. "It's an attack on our country," he told reporters. "It's an attack on what we all stand for."

America is UNDER ATTACK!

Trump has been quite bold in the face of these allegations. He certainly is not without flaws, but the attacks against him—and his remarkable resilience to them so far—are exposing layer after layer of corruption inside the federal government, much of which has carried over from the Obama administration.

- REAL TIME -
DEBT CLOCK OF AUSTRALIA
Source:
Australian Government Data
It Will Open Your Eyes to the Stupendous Idiocy of Self Absorbed Politicians, Who
in Reality do NOTHING at ALL, but add to the debit!

HOPE YOU CAN COUNT THIS HIGH!
Think that is scary? Check out the USA debit counter!


Security Supplies Australia brings you this Information as a World-Wide Community Service.